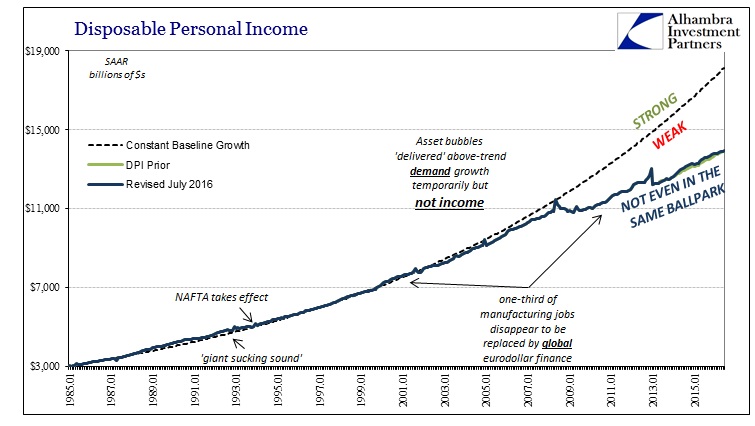 THIS 'GREAT RECESSION' IS NOT JUST A RECESSION
IT IS A DEPRESSION WITH LOTS & LOTS OF MONEY PRINTING
[
Y
ou can call it something different than Depression. The words being used are simply to confuse people.
Those who hold the monopoly on 'money' creation
don't want the public to understand how it works
]
- Jeffrey P. Snider:
"The current economy is unlike any other economy, as once again we find more evidence that the Great Recession was not a recession. The revisions are thus shown as inconsequential to the more important big picture. We may not have any idea of what the savings rate is, but we can reasonably assume that in economic terms it is far less important than it once was because it applies to a much smaller proportion of economic participation. And unlike GDP, the trend in income falls below the historical baseline with the dot-com recession and the true start of Ross Perot's 'giant sucking sound.' This deeper review of income corroborates fully the participation problem which clearly existed before the Great Recession. Therefore, the Great Recession, again as something far different than recession, simply amplified the existing economic weakness into a massive and, so far, permanent rupture. We don't know what the savings rate is in 2016 because the economy of 2016 is and has been altogether different for practically all of the 21st century. Even though on the surface there seems a significant difference between 6% and less than 5%, in reality the only difference that truly matters is the one where Disposable Personal Income in 2016 is somewhere around $14 trillion rather than the $18 trillion it would have been had the Great Recession actually been a recession."
LINK HERE to the commentary