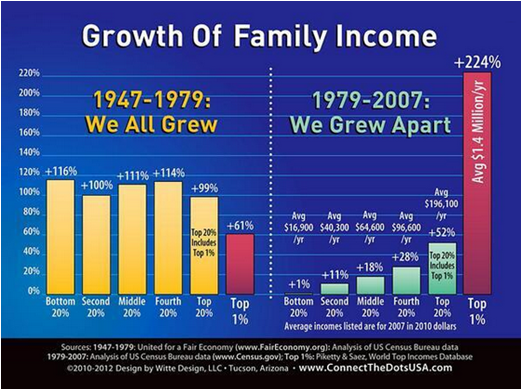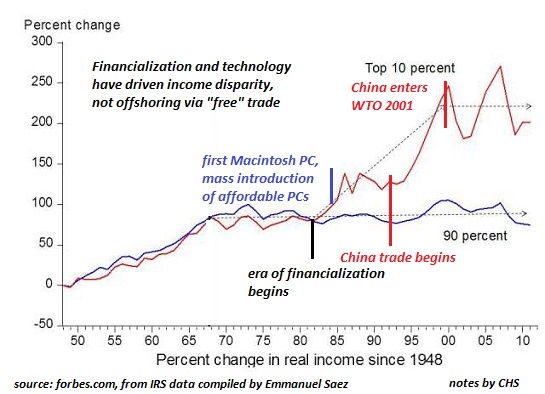 The Root of Rising Inequality:
Our "Lawnmower" Economy
5*
[The podcast below is a great discussion of the 'financial innovation games' that enrich the few at the expense of the many. The enrichment that is going on does not create new wealth for the whole economy. It redistributes wealth to the wealthy much as 'welfare' redistributes income. Which is more insidious? Redistribution of income to the poor or to the wealthy? Neither one is a good thing.]
slightly paraphrased:
'After decades of denial, the mainstream has finally conceded that rising income and wealth inequality is a problem--not just economically, but politically, for as we all know wealth buys political influence/favors ..
This is not free market capitalism; it is predatory exploitation being passed off as capitalism.
This predatory exploitation is only possible if the central bank and state have partnered with financial Elites to strip-mine the general population to benefit the 'special privileged' few .. This has completely distorted the economy, markets, central bank policies, and incentives' .. [
our words:
The 'Elites' benefit from a centrally planned economy that deceives the people by claiming to be 'free market'. In reality, it is anything but 'free market'. A tiny but wealthy, powerful & connected group rely on] 'the central bank and state for nearly free money & bail-outs. It guarantees that profits are private but losses are shifted to the government."
- Charles Hugh Smith*
link here to the reference